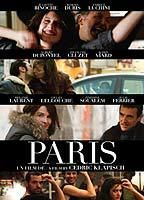 Year:

2008

Country:

France

Genre(s):

Comedy, Drama, Romance

Number of videos:

5

Nude Actresses: Audrey Marnay, Bai Ling, Julie Ordon, Juliette Binoche, Melanie Laurent, Sarah-Jane Sauvegrain
Pierre, a professional dancer, suffers from a serious heart disease. While he is waiting for a transplant which may (or may not) save his life, he has nothing better to do than look at the people around him, from the balcony of his Paris apartment. When Elise, his sister with three kids and no husband, moves in to his place to care for him, Pierre does not change his new habits. And instead of dancing himself, it is Paris and the Parisians who dance before his eyes.