Meadowlands – Nude Scenes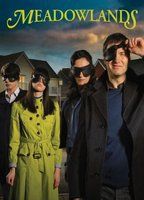 Year:

2007

Country:

GB

Genre(s):

Drama

Number of videos:

4

Nude Actresses: Ella Smith, Lucy Cohu, Melanie Hill
Cape Wrath is a British drama television series produced by Ecosse Films which focuses on a family trying to escape its past while confronting an even more uncertain future. The series opens with Danny and Evelyn Brogan along with their two teenage children Zoe and Mark entering a witness protection programme, moving to a bucolic neighbourhood, Meadowlands, to begin a new life. Picturesque and crime-free, Meadowlands appears to be a suburban paradise where the Brogan family can start a new life. However they soon realise that it is not so easy to escape the past and their safe haven becomes a world of paranoia and psychological intrigue with surprises around every corner.
The series is produced by Ecosse Films for Channel 4 in the UK and Showtime in the US, and premiered in the United States on 17 June 2007 at 22:00 EST, on Showtime. The United Kingdom premiere was on 10 July 2007 at 22:00 BST on Channel 4.
Meadowlands itself is actually two locations: the titles, overhead 'establishing shots' and the main characters homes were filmed at The Lakes, a new housing development next to Leybourne Lakes Country Park near New Hythe in Kent, south east England. Samantha Campbell's 'headquarters' as well as the doctor's surgery were filmed in a warehouse close to Maidstone Studios., The post production was carried out in London at St Anne's post production house.