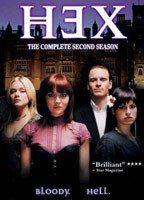 Hex is a British television programme developed by Shine Limited and aired on the Sky One satellite channel. The story is set in a remote English boarding school with a mysterious past. Series one explores the supernatural relationship between a Fallen Angel named Azazeal and a student called Cassie who is also a witch. In the second series the story centres around 500 year old anointed one Ella Dee, and Azazeal's son Malachi. Both series of the show are currently available on Region 2 DVD, with the first series released on Region 1 DVD in June 2007.
The show was cancelled in April 2006 after the end of the second series.
The programme premiered in the United States on BBC America, sometime after, dividing the episodes into two equally long series for American viewers. Series 1 aired in the summer of 2006, while series 2 aired in the summer of 2007.