Hammer House of Horror – Nude Scenes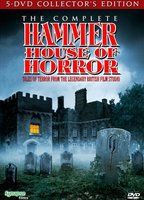 Year:

1980

Country:

GB

Genre(s):

Sci-Fi & Fantasy

Number of videos:

5

Nude Actresses: Lucy Gutteridge, Patricia Quinn, Prunella Gee, Rachel Davies
Hammer House of Horror is a British television series, made in 1980. An anthology series created by Hammer Films in association with Cinema Arts International and ITC Entertainment, it consisted of thirteen 50-minute episodes, which was broadcast on ITV.
Each self-contained episode featured a different kind of horror, and these varied from witches, werewolves, ghosts, devil worship and voodoo, but also included non-supernatural horror themes such as cannibalism, confinement and serial killers. In 2003, Channel 4 placed Hammer House of Horror at No.50 in its '100 Scariest Moments' show. The clip shown was the children's party scene in 'The House That Bled to Death'.
Episodes were directed by Alan Gibson, Peter Sasdy and Tom Clegg, among others, and script edited by Anthony Read.